FLYING OVER retro garage punk
The band "Flying Over" is on tour in Europe. Check out their
MySpace page
to hear their cool Garage/Punk music and go see them if you're in Europe! Here's the details from an email I received, but it's in French so I can't read it but maybe you can!
-+-+-+-+-+-+-+-+-+-+-+-+-+-+-+-+-+-+-+-+-+-+-+-+-+-+-
FLYING OVER retro garage punk - Bordeaux / France
Depuis ces dernières années, le couple Jet Boy Jet Girl ne cesse de sévir leurs singles sortis en France sur Shit In can Records, Frantic City Records, Adrenalin Fix Music et dernièrement en Angletterre sur HOLY TWIST RECORDS (le label des VICARS), ont permis au groupe d'être comparé et classé en Europe et aux USA au côté de groupes comme SEX PISTOLS, STITCHES, JOAN JETT, SAINTS, VIBRATORS etc... Alors vous l'avez bien compris, ils ne font pas dans la dentelle...Après chaque concert ou tournées en Europe, le groupe profite d'un excellent feedback qui le pousse à faire de plus en plus. En Novembre, ils ont fait une Tournée Française avec THEE VICARS. 2 nouveaux titres sortent en 2010 sur la compilation vinyle GET WYLD! de chez HOLY TWIST RECORDS qui sortira aussi Le deuxième album du groupe cet été...
www.myspace.com/flyingover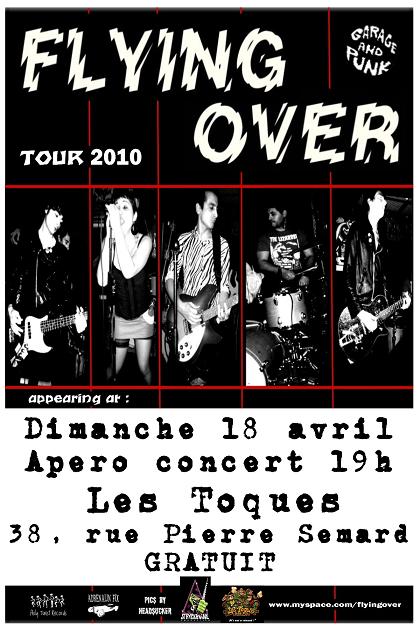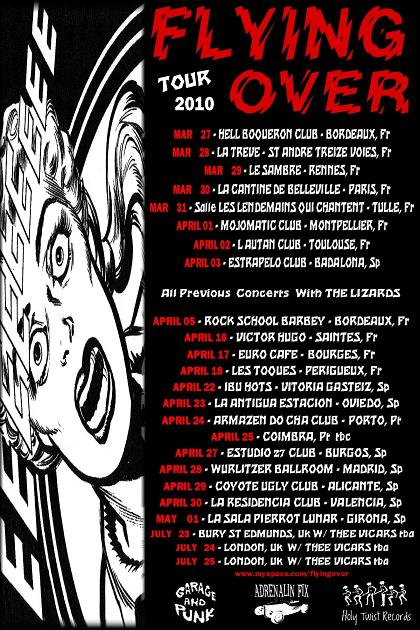 Labels: europe, flying over, Garage, Punk, tour