A Twilight Taste Of Indigo - Tom Haun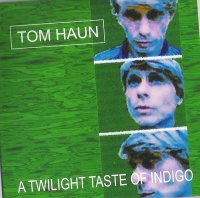 Tom Haun is out with a new CD entitled "A Twilight Taste Of Indigo." The disc holds 8 tracks all between 3 and 5 minutes in length. Instrumentation includes rhythm guitar, lead guitar, bass guitar and drums. All 8 tracks have a similar 1960s slow rock / blues / folk vibe so if you like one track you will most likely enjoy them all.
Tom has a smooth vocal style that occasionally reminds one of Neil Young or maybe Roky Erikson performing slower 13th Floor Elevators tunes (like "
Baby Blue
"). The lyrics are interesting and well written. The guitars are crisp and clear while the drums provide a rock solid backbeat.
For me, the stand out track is "Silent Saturday" which reminds me of "For You" by The Sugar Twins, even using the words "for you" in the chorus. This is a pop rock song with a nice beat. The CD ends with a cool instrumental named "East Coast/West" that grooves nicely.
If you're a fan of slow to mid tempo folk rock and blues 60s inspired tunes, you'll like this offering from Tom Haun.
Labels: 13th Floor Elevators, Blues, folk, Tom Haun