The Legendary Gentlemen - In Your Face! - CD Review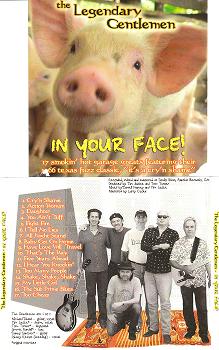 The Legendary Gentlemen -
In Your Face!
If you don't know the 1966 Garage Rock classic, "
It's a Cry'n Shame
," then you don't know Garage! Considered one of the best examples of raw 60s Garage Punk, this song by
The Gentlemen
from Dallas Texas has always been one of my favorite songs. I was very happy to hear that several of the original Gentlemen were back together and out with a new CD using the name "
The Legendary Gentlemen
." I am pleased to have a copy of that CD and here are my thoughts about it.
First, some general thoughts, then a track by track commentary. When
The Gentlemen
recorded "
It's a Cry'n Shame
" in 2 takes back in 1966, they were all in their mid teens. The song is very raw and unprocessed. It drips with fuzz, has amazing vocals, and the backbeat stomps like a herd of elephants. If I were to make a music video of this song, I would have the guys in black leather jackets, riding motorcycles down the highway. I would have them arrive at a 1960s discotheque filled with wild dancing, much like the
Pigeon Toed Orange Peel
sequence in "Coogan's Bluff." The chainsaw guitar break would be playing over a fight scene, like in the Frankie and Annette Beach movies. This song rips through your brain and leaves you bruised and battered. If you aren't up and jumping around like a maniac when you are listening to it with the amps turned up to 11, you better check your pulse cuz you might be dead!
This CD starts with a brand new version of "Cry'n Shame" which is much more polished but still kicks butt! The original track and this track are both great in their own way. Anyone who knows the original will want to hear the new version.
Now here's a track by track review of the CD.
Go
buy this
, you will love it!
1. Cry'n Shame - A remake of The Gentlemen's classic garage rocker. Since the original is perfection, there is no way to match it. But this latest incarnation is pretty close! The famous riff is intact, with slightly less buzzsaw fuzz. The guitar break is different but almost as good. The drums are much higher in the mix than they were in the original. Like most Garage tunes, they were buried deep in the mix in the original. The higher frequencies in the original consisted mainly of harmonics from the overdriven guitar but in the new mix we hear the various drum cymbals. Vocals are great in the new version, comparable to the original. The backing vocals are nearly identical, but a little too low in volume, while the lead is clearer but equally powerful. The new version is better produced and mixed, but in losing some of the rawness, it sounds a little like it is being covered by ZZ Top in the 80s. Of course that's not a bad thing, ZZ Top were Great! I saw them live in the early 70s. The point is, this is a different version, but it still ROCKS and you will LOVE IT!
2. Action Woman - This EXCELLENT remake sounded as good or better than the original. There is a nice balance in all the frequency ranges and the song retains its 60s garage punk power.
3. Daughter - A funky rocker that sounds reminiscent of something Peter Framptom might have done in the mid 70s. Very nice guitarwork here. A spoken outro that reminds one of the spoken intro to "The Number of the Beast" by Iron Maiden.
4. You Ain't Tuff - Driving garage rocker with nice guitarwork.
5. Fight Fire - A garage favorite of mine, this song was done by the pre-CCR Golliwogs. A faithful cover with a fuzzy guitar break that is VERY satisfying!
6. I Tell No Lies - Great garage rocker featuring organ over a cool chord progression.
7. All Night Stand - Nice garage pop with a good long dueling guitar break.
8. Baby Get On Home - A funky dance rocker with a live party vibe.
9. Have Love Will Travel - Very nice version of this Garage Classic.
10. That's The Way - Rocker with a very nice guitar break, reminds one of Carlos Santana.
11. Five Tears Ahead - Faithful reproduction of this garage psyche classic by The Third Bardo.
12. I Hear You Knockin' - Nice remake of this 50s classic with a cool organ break and harmonica flourishes. Almost sounds like New Country by the end.
13. Too Many People - Good version of a Garage classic.
14. Shake, Shake, Shake - Cool version of this dance rocker.
15. My Little Girl - Uptempo blues rocker with a cool riff.
16. The Sub Prime Blues - Straightforward gritty blues tune with a contemporary lyrical theme. Very tasty guitarwork.
17. Too Cheap - Pop rock chorus with a funky chorus that reminds one of the Archies or Josie and the Pussycats. Evolves into an Allman Brothers sounding tune.
Labels: Classic, Cry'n Shame, Garage, Gentlemen, Texas