Watch It Sparkle EP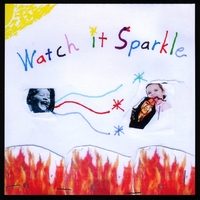 Watch It Sparkle
is a Punk / Trash / Garage Rock band from Seattle Washington. This three piece band features Justin Mellow on guitar and vocals, Steb on bass and Starr on drums. All three play their instruments with passion and passable competence. Here is a review of their new
4-song EP
. The band will be supporting it with a West Coast tour in March (Show Schedule
here
) and a full length album titled "Leave Me to Dream" is due to be released later this year.
1. My Baby Has a Red Tooth - This song starts off with power cords and pounding drums, soon augmented by keyboards. Vocals come in starting with a frantic "uhhhhh" followed by the punk verses and chorus. The vocals are a bit low in the mix but this is a guitar song so it's fine.
2. Your Heart Will Throb Hard - This song also starts with power chords but more in a Garage form. It also features keyboard similar to what you hear on the first B-52s album. Again the vocals are punky but a little stronger than track 1. The first 4 seconds is nearly "Fireflies" by Owl City, then its straight into great Garage guitar and drums. It has cool Garage backing vocals and the song ends with a scream. This is my favorite song and sounds to me like a cross between "Do It Clean" by Echo and the Bunnymen, and "Planet Claire" by the B-52s.
3. It's a Kill - Strong guitar and drums song with a vocal style similar to the first 2 tracks.
4. Hokey Cokey - Starts off like Wooly Bully - but then the pace doubles and we're in punk-o-mania! This song should have any listener pogoing around their room. The lyrics are based on the Hokey Pokey and sung in the same frantic style as the others.
This is a solid punk / rock EP with some Garage and New Wave influences. If you like Garage, you may like this as well. Have a listen to some of the songs at the band's
MySpace page
.
Buy the CD at CD Baby
.
Labels: CD, Garage, new wave, Punk, review, Watch It Sparkle